By Eugene McGloin
Political EditorLEO VARADKAR
has given good firm leadership to Fine Gael TDs.
The same can not yet be said with certainty of his leadership of the country.

Opinion Poll
That is reflected in the latest nationwide opinion poll; the trend is downwards.
Today's poll by Red C for The

Sunday

Business Post is Leo's lowest rating since he became leader.

No surprise either as he has made a dogs dinner of the current crisis in his Cabinet.
The buoyancy seen during the party's leadership election hustings and subsequent 'honeymoon' shows a redacted sheen this morning.

Varadkar hasn't been tested yet outside his party and nothing so far has inspired great confidence, either.

Who remembers now that one of the first wagons the new Fine Gael leader hitched his shining star was to Macron in France.

Macron swept to power as an unproven quantity but just as quickly the voting public's love-in became a massive love-out.
Grassroots Standing
The throngs in the love-out would seem to include Leo, who didn't mention Macron as much since.

Varadkar's standing with Fine Gael grassroots will only become known when all votes are counted in the next general election.

Apart from Paddy Power and his punters the election date itself now hardly matters, whether it is December or January or early Spring.
More Certain
More certain is that we will now have an early election, done and dusted by Easter
Sunday, April 1st 2018
.
We had not expected that and had the crisis of the past week been handled differently the horizon for an election would have remain beyond the third Budget.
The leadership qualities, or otherwise, of Leo Varadkar will be adjudicated and quantified by the voters nationwide for the first time in any upcoming election.

Also unfathomed as yet is how much the Fine Gael party grassroots have bonded with their new boss.

Only months ago the same grassroots opted, decisively, for his opponent, Simon Coveney.

It seems reasonable to assume that, in the absence of any major public rows, those internal hustings choices are put behind them all for a long time.

Kindle Embers

But any failure to retain government in an unnecessary or premature election could kindle some embers for the Corkman.
Especially so if there is another Corkman newly sitting pretty in the office of Taoiseach, the one currently occupied by Our Leo.
Meanwhile, all this past weekend both Varadkar and his national executive have been offering actual dates suitable for a general election in December.
First 'Mortaller'
It can be argued that both are not showing sufficient regard for the power(s) of the President of Ireland.
It would not, as we know too well, be the Fine Gael party's first 'mortaller' on the role of our President and his Constitutional Power. See link below.
President Higgins could use his "absolute discretion" and decline to dissolve the Dáil for December, if it comes to that.
A statement by Dáil groupings that they'd endeavour to form a government ("in the national interest," of course) without an election could be interesting.
Equally clear, if Varadkar decides to call a December election on foot of losing a "Confidence" a few pertinent items pencil themselves in.
1. He can (reasonably) presume Dáil sentiment on him would harden on him as a Taoiseach if he puts TDs through a hasty winter election;
Varadkar might be wise to revisit Theresa May when she presumed a coronation was a formality in the general election of June 8th 2017.
2. If Varadkar loses power in an unwanted election he could be out for a long time;
3. Despite public swoons ranging from smarmies to smoothies, Fine Gael TDs are fearful

that Minister Charles Flanagan, too, could be left exposed in an early election.
4. One of the gifts of great leadership seems entirely absent in the arsenal of Varadkar, namely

the gift of Doubt.
The only big certainties on show so far from Leo's leadership tend to be all about his own TDs and Ministers.
In his pronouncements they are and have been 100% correct ALL of the time.
The remainder from Leo is more wooly and flimsy where Jo Public is concerned.
On too many public issues he sounds like Gerry Adams dealing with economics. Yeah, that sluggish.
No doubt in an election, either before Christmas or before Easter, Varadkar will (must!) flesh out many ideas in order to let Jo Public cast his judgement.
The past 100 hours have seen the media at both national and regional level flooded with Fine Gael's sense of self-hurt, with no mention it is self-inflicted.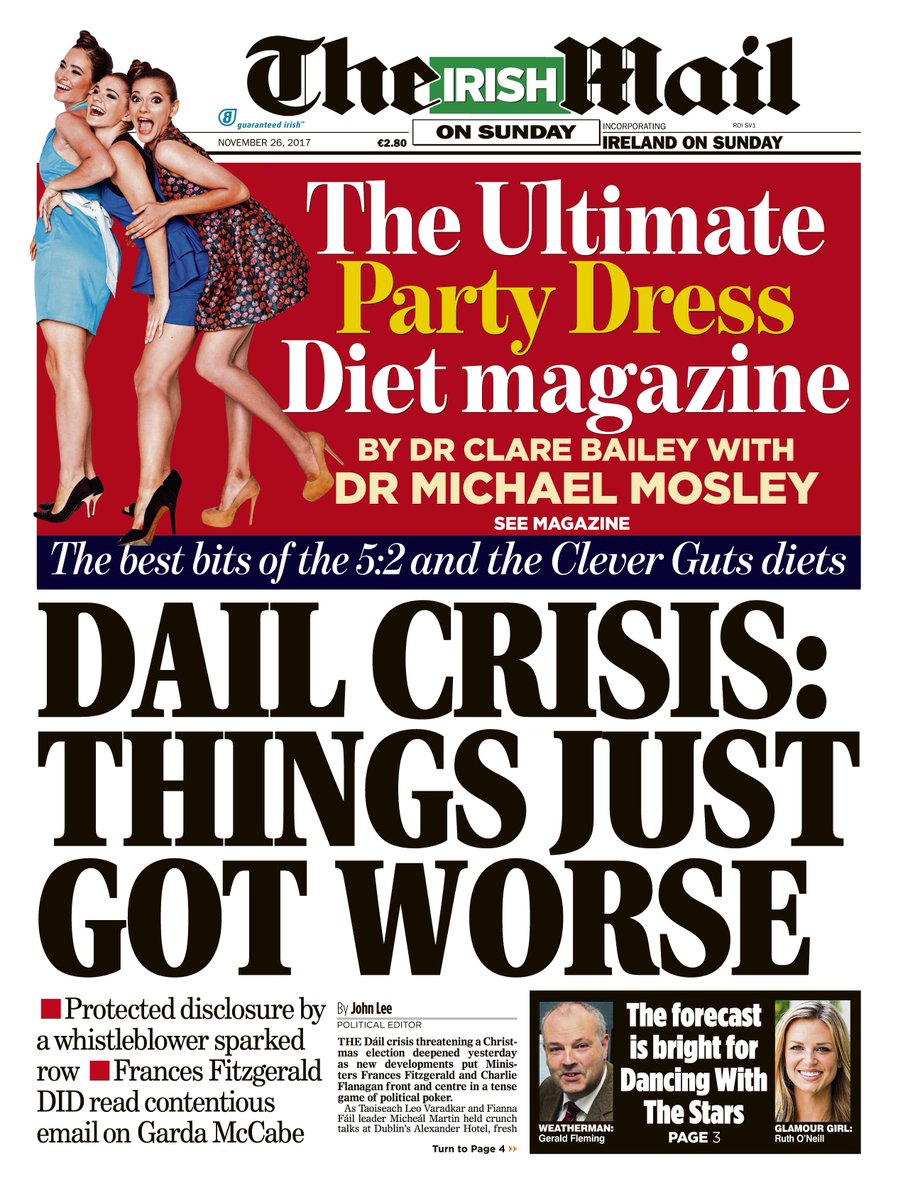 ____________________________