March Gardening
Added: 12/03/14 : 08:47:19
Dear Fellow Gardeners
Spring must be round the corner by now. It hasn't come up to Leitrim yet, but when I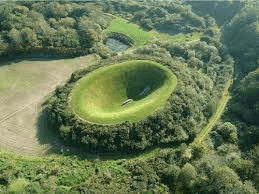 was down in Skibbereen last week I got the first glimpse of it. Going for a lunchtime walk I felt my back warming up with the spring sunshine and the birds were beginning to sing. This is my favourite time of the year when nature starts to wake up from its long slumber. This is also the time when gardeners get itchy fingers.
Sky Garden in Liss Ard, Skibbereen, Co. Cork
Don't be too tempted though – these days are just teasers. There are not many crops that can be planted outdoors in March. I always argue that one of the biggest mistakes gardeners make is to be too impatient and sow or plant too early. Below is a short chapter on what to sow or plant in March.
Outdoor sowings and plantings in March:
Early potatoes (mid March), onion and shallot sets, garlic bulbs (mid March to early April), broad beans (Witkeim), Jerusalem artichoke.
Indoor sowings for planting outdoors later:
Lettuce, scallions, early cabbage, celery, celeriac, leeks, coriander, dill, parsley, beetroot, calabrese, oriental salads, perpetual spinach, chard (from mid March onwards).
Indoor sowings direct into tunnel or greenhouse:
Early potatoes, radish, turnip, oriental salads, beetroot, carrot, annual spinach, coriander, dill.
Indoor sowing in trays for planting into tunnel or greenhouse:
Tomatoes, peppers, aubergines, chilli peppers, climbing French beans, sweetcorn, lettuce, scallions, celery, coriander, dill, parsley, calabrese, oriental salads.
What's on?
On Saturday 1st March there is a seed and plant day at Killrudderry House in Bray, Co. Wicklow. It will be held in conjunction with their wonderful weekly market which is well worth a visit in its own right. The seed and plant fair will take place from 10.00am-4.00pm.
We will be there with 'GreenVegetableSeeds' and as well as our seed selection we'll also have a great range of organic seed potatoes and onion sets available on the day.
I recently visited their Walled Garden which is currently under restoration. A lot of work has already taken place in this garden and it's always great to see that organic vegetables are being grown there. It will be well worth a visit once spring arrives.
What's new?
New Book: 'A Vegetable Grower's Handbook' by Klaus Laitenberger
We have just published our third book 'A Vegetable Grower's Handbook'. It's a smaller publication (164 pages) and is designed to be taken out into the garden with step by step information on how to grow a wide range of vegetables both indoors and outside. It is full of wonderful illustrations by Dympna O'Driscoll making it a very easy to follow guidebook.
The book is available from our website and independent bookshops throughout Ireland.
Irish Garden Magazine
I'm delighted to have been asked to be a monthly contributor to the Irish Garden Magazine. The March issue is now in shops and – as usual – is packed with wonderful articles and gardening advice.
Joy Larkcom 'Creative Vegetable Gardening'
This is really great news! My favourite gardening book of all times has finally been published again. For many decades Joy has inspired vegetable gardeners all over the world. She travelled throughout the world in search of new vegetables and new varieties. In my mind 'Creative Vegetable Gardening' is the most inspirational gardening book ever written – a must for every vegetable gardener.
Gourmet Genetics
Gourmet Genetics is the partnership between plant breeders Simon Crawford and Mark Rowland. They are the breeders of the wonderful tomato 'Sweet Aperitif'. Their breeding programme focuses on varieties which have outstanding flavour and quality especially for the amateur market, where there is a real need for modern, high quality open pollinated varieties.
Last week they sent me samples of their other tomatoes 'Rosella', 'Black Opal', 'Bite Size' and '4th of July' as well as a their whole range of chilli peppers. I'm so excited trialling all these new varieties. That's the beauty with gardening – we'll always learn! I'll keep you updated.
Glor Na Mara – Ecological Initiative in Bundoran
I have been working at this amazing project for the last 7 years on a part time basis. It is run by the Mercy Sisters Assumpta Butler and Mary Kate Hagan. It's based on a two acre site in the middle of Bundoran and is always a hive of activity.
There are various strands to the project – a community garden project, allotments, primary school garden – as well as a spiritual element. They are inspired by the stunning new insights of the awesome story of the unfolding universe, the story of planet Earth and the sacredness of the whole community of life. They believe that there is an urgent need for education and awareness-raising to bring about a new relationship with the earth. Their commitment is to honour the interconnectedness of all life.
If anyone travels up to the North West you can have a stroll through the garden or call Sr Assumpta on 086 3938630
http://www.sistersofmercy.ie/vision/mary_kate_hagan.cfm
The Science Delusion – by Rupert Sheldrake
If you have an hour spare, please have a look at this amazing lecture by Rupert Sheldrake. It could possibly put science on its head. It could change the way we think.
http://www.schumachercollege.org.uk/community/the-earth-talks-rupert-sheldrake-the-science-delusion
Enjoy your garden!
Klaus Laitenberger
General tasks and garden maintenance
Added: 12/03/14 : 08:51:01
Frosts can still be a hazard, so keep vulnerable plants protected at night if frost is forecast. March winds are also notorious for their ferocity so check exposed plants are well supported.
Now is the time for a thorough spring clean; weed and dig over your borders incorporating as much organic matter as you can - those chilly winds will really help to dry out the soil. Mulch bare soil once you have done the work and remove moss and weeds from paths, terraces and driveways. They may be boring tasks but if you don't get on top of the garden now (especially the weeds!) it will be a nightmare for the rest of the season.
Make new beds and borders - mark the shape with sand trickled from a bottle, remove the top layer of growing vegetation and dig the ground over, incorporating as much organic matter as possible. If you are making a bed in the lawn, remove the turf and stack it upside down somewhere out of the way - after a year or two it will rot down into fantastic compost. Alternatively chop it up and bury upside down in the planting hole a good spade's depth down. Beware - if you just dig it in the buried grass will regrow and regrow and regrow and...
Clean and repair your garden tools, book the lawn mower in for a service and check garden furniture for any rot. When it is warm enough, treat sheds, fences and trellis with wood preservative; brushes and rollers are fine for most things, however a sprayer is well worth buying for tricky projects such as woven panels!